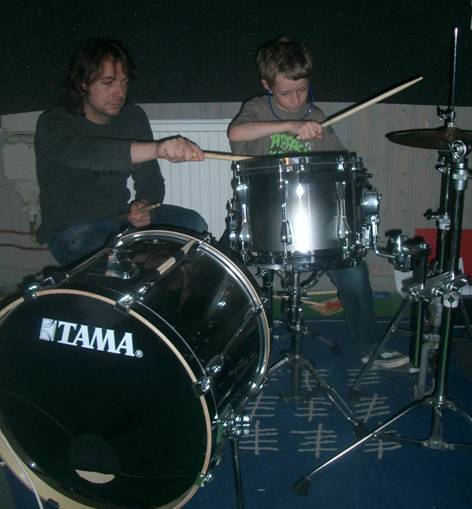 Joe Tyburn's drum school is one of the fastest growing ones in West Sweden. The drum school is located in Göteborg and teaches children from the age of 5, teenagers and adults.
Lessons are held individually and adapted to the students wishes and abilities.
We will work on your hand and foot techniques. This will give the student a good feel for varying rythms and getting the best sounds from your drums. Also, the student will learn how to read musical notation. This simple but invaluable skill will give access to any grooves and fills that are available in notation form.
This is a real advantage, it trains your brain, improves your own techniqes and you can read your parts or parts from your favorite drummer just like reading a book.
More advanced work on dynamics, structure and many other aspects of modern drumming techniques will further increase the students knowledge and skills. Most importantly, the student will have fun!
Joe has been teaching drums and rhythm at The English School of Gothenburg since November 2011. This is done Individually and in Group Lessons. The Rhythm classes target children aged 5-6 with the goal that they get a feeling for music and rhythm which is great preperation for learning any other instrument as well as drums. The Drums classes are suitable for children from age 7 and start with the same rhythm base, but the aim is to be able to play on a real drumset.